Mountain Road And Mountains
Camping in the mountains, Horse riding around the alpine lake, Hiking under 4000m, Wild hot spring dips, traditional Yurtliving. Not a usual image for your recent road trips!? The beauty of exploring Kyrgyzstan from behind the wheel are unspoilt as its rugged landscape, untouched culture and flung nature.
Kyrgyzstan is a home for trips featuring giant glaciers, high mountain pastures, alpine lakes and cloud scraping peaks. We set our adventure in a way that everyone who join, can touch all this aspects even tho if they not experienced hill walkers or advanced horse riders at all.
The trip flows on the northern part of the country and highlighting with Son Kul, Issyk Kul and Ala Kul lakes with hiking and horse riding activities at the same time has pretty relaxing itinerary.
This trip is suitable for any time of warmer part of a year between June and September, North part is still lovely and balmy. And the short distance drives means that you can really explore each destination in depth.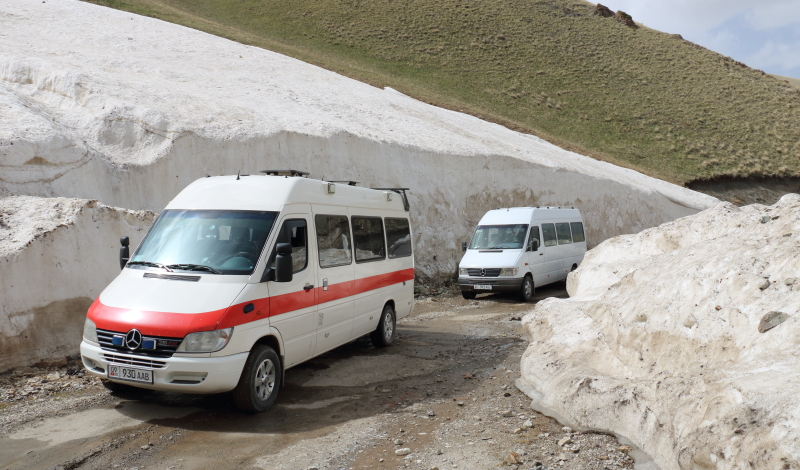 ---
       DETAILS:   
Locations:       Bishkek, Sonkul lake, Issyk Kul lake, Altyn Arashan hot springs, AlaKul lake, Jyrgalan, CholponAta
Exstension:    Terrain: asphalt 50%, gravel 40%, off road 10% 
Mileage: 1500 km / 932 miles
Styles:            
Camping/Yurt living experience/Feast with local families
Elevation:   
Start point at 900m in Bishkek city
The highest point of the trip is will be the 3200m at Jyrgalan district
The trip ends in Cholpon Ata resort 1600m
The highest Yurt stay branched at 3016m
Season/Days:  Our season for this trip starts from first dates of June and stretches till the end of September. The groups should plan on having at least ten days in the country beside having extra days off.
---
              FOOD:                 
Breakfasts:   Are starts with a tea/coffee which ends with omelettes, french toasts, porages and lots of sweets
Lunches:       Packed lunchboxes for the field on the hiking/riding days.
Apres hike:   You are welcome to our kitchen/dining areas anytime after riding day to hang there for some tea with bred and cheese, where we pull out the maps and discuss the routes for further days.
Dinners:    As we following the shepherds trail we won't know what waits us for dinner in each district but here is the list of a local regular dinners up in the mountains: Lagman (Meat and vegetables with spicy sauce on top of a hand-stretched noodles). Plov (Rice with mutton and vegetables). Kuurdak (Fried beef/lam or chicken with potatoes). Shorpo (Soup with chunks of vegetables and lam). Oromo (vegetables and mints rolled in the pasta cooked on steam) Besh barmak (Lam, noodles, onions with a soup of a mutton). Dymdama (Vegetables with beef covered by cabbage and steamed in Kazan). Almost all the meals are have ability to be cooked as a vegetarian one. 
In the cities like Bishkek, Karakol, Colpon ata we just go and take a chance to get into a local restaurants and have a dishes by the personal choice.
Drinks: Unlimited Tea, French press coffee and crystal clean water of Tien Shan from the springs
Experience: For joining our trips you should have just an adventurous nature. The trip doesn't require any skills of a horseback rides or trekking but you have to be confident spending up to 6 to 7 hours a day on the car sit.
Group size: 6 person min – 12 person max. For all groups our services are works privately. We don't like mess in our bases and we never mix 2 different groups in one. Most of the time the group size depends on our served vehicle like a "Mercedes Sprinter' kind of a van, If the number of the guests are less than 6 either more than 12, shoot us an email for discussing for how we roll in that case
Insurance:  Every one who joining us for trip in KG should have a personal MED-EVAC insurance which can be easily paired with Kyrgyz mountain rescue service.
Gear:  Must: Whole structure of a personal travelling gear in the daypack. For camping session everything is provided except personal sleeping bags.
Strongly recommended:  As we have days of hiking and horseback riding we require good hiking shoes, if you will have a trekking poles don't be lazy, bring it! Kyrgyz people never use helmet, riding breeches,  gaiters or any other special equipments while horse riding so you're welcome to pack everything what can make you more safe and happy on top of the horse.
---
PRICE:
Group of 6-12: 970 $/person/tour
Price includes: 
• "Mercedes Sprinter" minibus for the whole trip
•  lodges, Yurts, Tents with all meals and drinks at the tripping time
• Horseback ride in Son Kul lake/Altyn Arashan
• One satellite phone for the crew
Not included:
• Visa support (Kyrgyzstan offers a visa free policy for most countries)
• International flights to and from Bishkek
• Medical/evacuation insurance
• Dinners in the restaurants/alcohol drinks
---
                                                                                      DAY PLANS:
Day 1:                   
Altitude:                 900m to 2000m
Exstension:           200 km, approx 5-6 hours, asphalt 65%, gravel 35%, off road 0%
Accomodation:    Host family
You'll be picked up at the airport and we'll get you checked into the hotel to freshen up and rest after a long flight. You'll have to time if you get in early  to see a bit of a Bishkek before beginning our  way to small Kyzyl oi village. You ride a long stretch through the lowlands in the morning, after which you slowly ascend into the Kyrgyz Ala Too mountains south of a capital where we get off the beaten tracks. With driving along the beautiful Kokomeren river we will arrive at the evening in to the Kyzyl oi village where we stay for tonight.
Day 2:                   
Son Kul lake southern shore
Altitude:                  2000m to 3016m
Exstension:           150 km, approx 3-4 hours, asphalt 0%, gravel 100%, off road 0%
Accomodation:      Yurt
Today we will take a particularly beautiful route through the mountains, villages and summer pastures. Accessing  the Son Kul via Kara-Keche pass 3300m on the dirt road. As soon as we arrive to the south Shore of the lake and organized in the traditional Kyrgyz Yurts we going for a hike which helps on get the acclimatization for the night and the stunning sunset view with ever-changing landscape around the alpine lake.
Day 3:                   
Son Kul lake northern shore (Horseback ride day)
Altitude:                 3016m
Exstension:           35 km, approx 4-5 hours, asphalt 0%, gravel 100%, off road 0%
Accomodation:     Yurt
Horse riding day will smoothly float trough the host and shepherds yurts, along the lake side. Very flat and easy terrain which is just right for first time and enjoyable galloping ability for skilled horse riders . Definitely Shepherds life exploring day!
Day 4:                   
Altitude:                 3016m to 1600m
Exstension:           260 km, approx 5-6 hours, asphalt 80%, gravel 20%, off road 0%
Accomodation:     Side house
This morning we set out for Issyk Kul lake. Our first stop is the Kalmak Ashuu pass 3400m for a view down the valley with hundred of yaks on the pasture. Next tacklei is at the Kochkor village to get some coffee and early lunch. Afternoon we arrive to the Yssyk Kul lake where we can have a small hike at the Skazka canyons and meet with a Eagle hunters up at their village for witness their training young eagles for their winter hunt ventures.
Day 5:                   
Altitude:               1600m to 1700m
Exstension:           110 km, approx 3-4 hours, asphalt 100%, gravel 0%, off road 0%
Accomodation:    Guesthouse/Family host
After we drove another hundred kilometers and quick visit Jeti Oguz red canyons we have an entire day for spend with local family preparing meals together for evening feast in Karakol.
Day 6:                   
Altitude:                1600m to 3500m
Exstension:           27 km, approx 2 hours driving 100% off road. 3 hours horseback ride uphill on the pasture. 2-3 hours hiking on the scree slope.
Accomodation:    Camping
The most intensive day of the whole trip is today. Early pick up by the 4x4 military truck to the Altyn Arashan hot springs where we change onto the horseback till our campsite where we stay for the night in the tents. From here guests can take advantage to hike up to the most popular pass of the district for the amazing panoramic view of the Ala Kul lake and the highest peaks of the Teskey Ala too Range. Height of the pass is 3860m the campsite branched at 3500m. Optionally, who won't have that push in to go hiking can get some book ask our chief make a tea and kick back till the others are struggle up hill.
Day 7:                   
Altyn Arashan hot springs
Altitude:                 3500m to2500m
Exstension:           9 km, 3-4 hours hiking descents
Accomodation:     Yurt
Amost thousand meters of the altitude drop will be done smooth and easy as the way back to Arashan valley has no any steep terrain but many trails following over crossing rivers and forest. Evening yurt stay next to the hot springs are feels deserved.
Day 8:                   
Altitude:                2500m -2300m
Exstension:          70 km, approx 5-6 hours, asphalt 20%, gravel 20%, off road 60%
Accomodation:    Yurt/Ski lodge
This morning you set out for Jyrgalan village.
The same off road has to be driven down off the Arashan valley opportunities are to take a walk still any time you can be picked up by our truck.
We arrive to Jyrgalan at noon time and its the time to get the picnic out above the village.
Small walk in the village. Accommodation in our winter ski lodge on the upper slope of the settlement.
Day 9:                   
Altitude:                2300m to 1600m
Exstension:          200 km, approx 5-6 hours, asphalt 75%, gravel 25%, off road 0%
Accomodation:    Hotel
The road trip continues in the direction of north shore of the Issyk Kul lake to Cholpon Ata which is a vibrant and lively resort town with a wide assortment of restaurants, good beachsides and and sidewalk cafes.
Day 10:                
Altitude:                1600m to 900m
Exstension:           250 km, approx 4-5 hours, asphalt 100%, gravel 0%, off road 0%
Accomodation:     Hotel
Enjoy the last moments of your northern Kyrgyzstan vacation before heading to the Manas airport for your flight home. It's time to explore the colorful Osh bazar, downtown of the capital and say goodbye to the home of mountains, lakes and rivers.
Booking: Shoot us an a e-mail for additional informations and booking requirements.